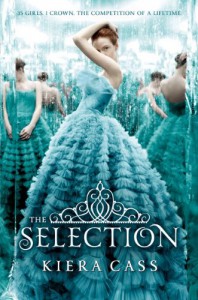 Title: The Selection (The Selection #1)
Author: Kiera Cass
Format: E-book
Time To Read: 2 days
Goodreads Bio: For thirty-five girls, the Selection is the chance of a lifetime. The opportunity to escape the life laid out for them since birth. To be swept up in a world of glittering gowns and priceless jewels. To live in a palace and compete for the heart of gorgeous Prince Maxon.

But for America Singer, being Selected is a nightmare. It means turning her back on her secret love with Aspen, who is a caste below her. Leaving her home to enter a fierce competition for a crown she doesn't want. Living in a palace that is constantly threatened by violent rebel attacks.

Then America meets Prince Maxon. Gradually, she starts to question all the plans she's made for herself—and realizes that the life she's always dreamed of may not compare to a future she never imagined.
My Review: Holy Ghost!!! This book was amazing. There was mixed reviews among my friends on goodreads, so i didn't know what to expect when i borrow it. but man oh man did i love this book! 2 days of binge reading proves how good this book is. I love the main character America, awesome name by the way, she's so much like me and i instantly click with her. i loved the plot, and the caste system, similar to hunger games in how certain caste do certain things, but unlike the hunger games, you can move up and marry out, i didn't see any of that in hunger games. Prince Maxon is a great character, i would very much like him as my King :] i just loved this book.
Recommend it?: YES! DO IT, READ THIS!!! Great for those who liked hunger games but want something with less violence.